At EMS Today, during my presentation on EMS Continuing Education, I discussed the oddity of magazine article based CE that awards an hour or hour and a half of CE for reading 2000-4000 words. Part of the presentation was a timed reading exercise. Participants read about 200 words of text on the screen and clicked on an audience response pad when they had completed the reading. Reading time ranged from 15 seconds to nearly 60 seconds.
After returning home I received an email from Staples for an online reading test. The purpose of the test is to sell e-readers, like the Kindle Fire. My time was slightly above average but not the blazing speed of a college graduate (which I am). I re-read several parts of the passage to make sure I was getting the detail in the passage. My re-reading paid off because I scored 3 of 3 on the recall quiz at the end.
Should reading speed and credits awarded for a CE article be correlated?
How did you do on this simple reading speed test? Do you think it is valid and reliable?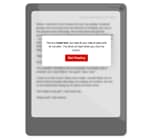 Source: Staples eReader Department